Regular price
Rs. 2,873.75
Regular price
Rs. 6,248.75
Sale price
Rs. 2,873.75
Unit price
per
Sale
Sold out
Phimosis treatment rings are rings specially designed for phimosis. Made of medical grade silicone, these rings are 100% safe for the foreskin and easy to wear.
Contents Inside:
20 Phimosis Rings (graduated sizes)
1 x Phimosis Cream (30ml)
1 x Phimosis Coconut Oil (100ml)
1 x Stretching tool 
1 x User Manual
Delivery in 4 days*

Free delivery all over India. Have it delivered to your home in 3 to 5 days*
Shipping Policy

100% Refund Policy

Money back guaranteed if you are not satisfied with the results. No-Questions-Asked-Refund-Policy.
Refund policy
Privacy Guaranteed Packaging

Confidentiality Packaging guaranteed. The contents of the package are not mentioned on the packaging. There is also no mark.
View full details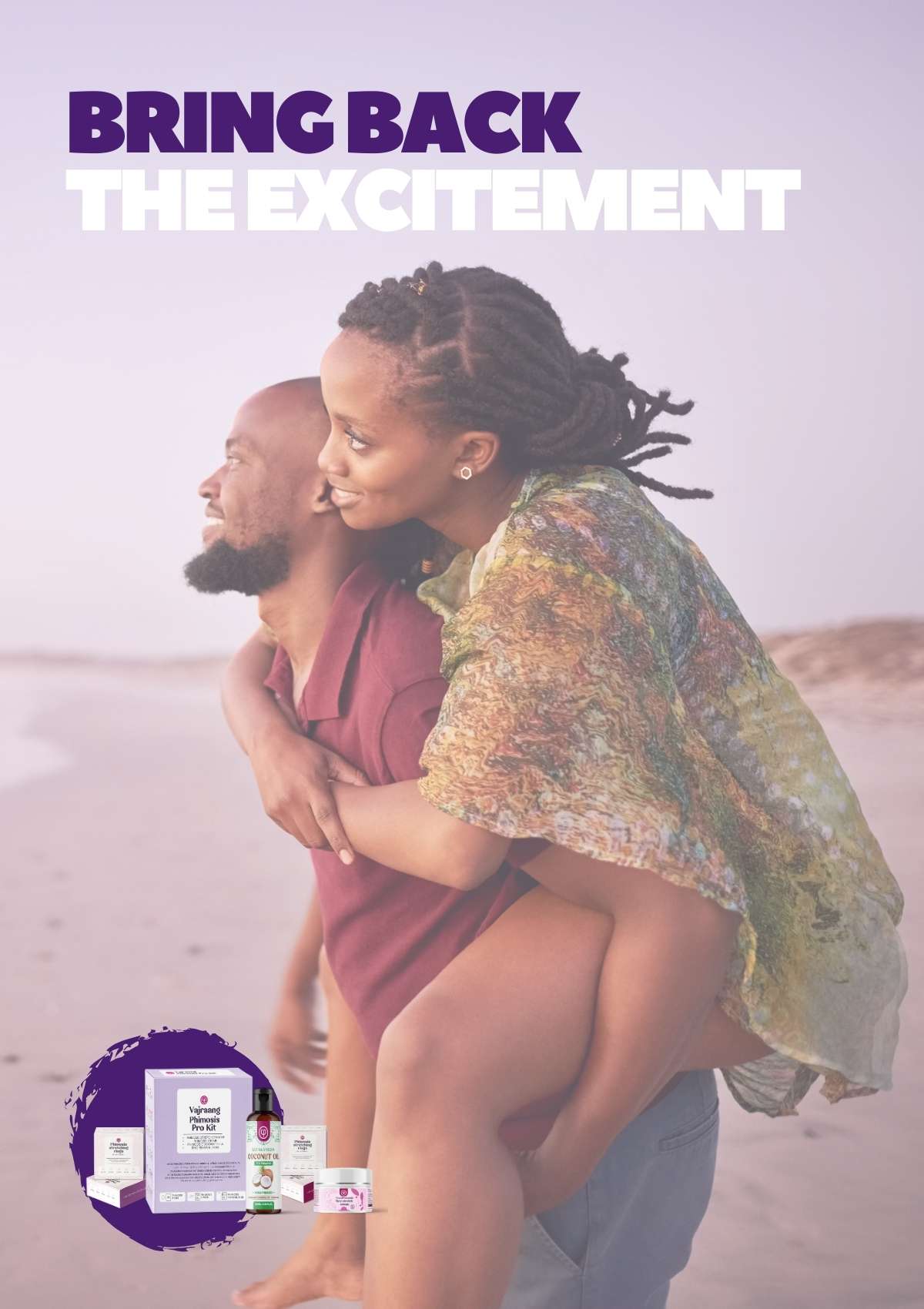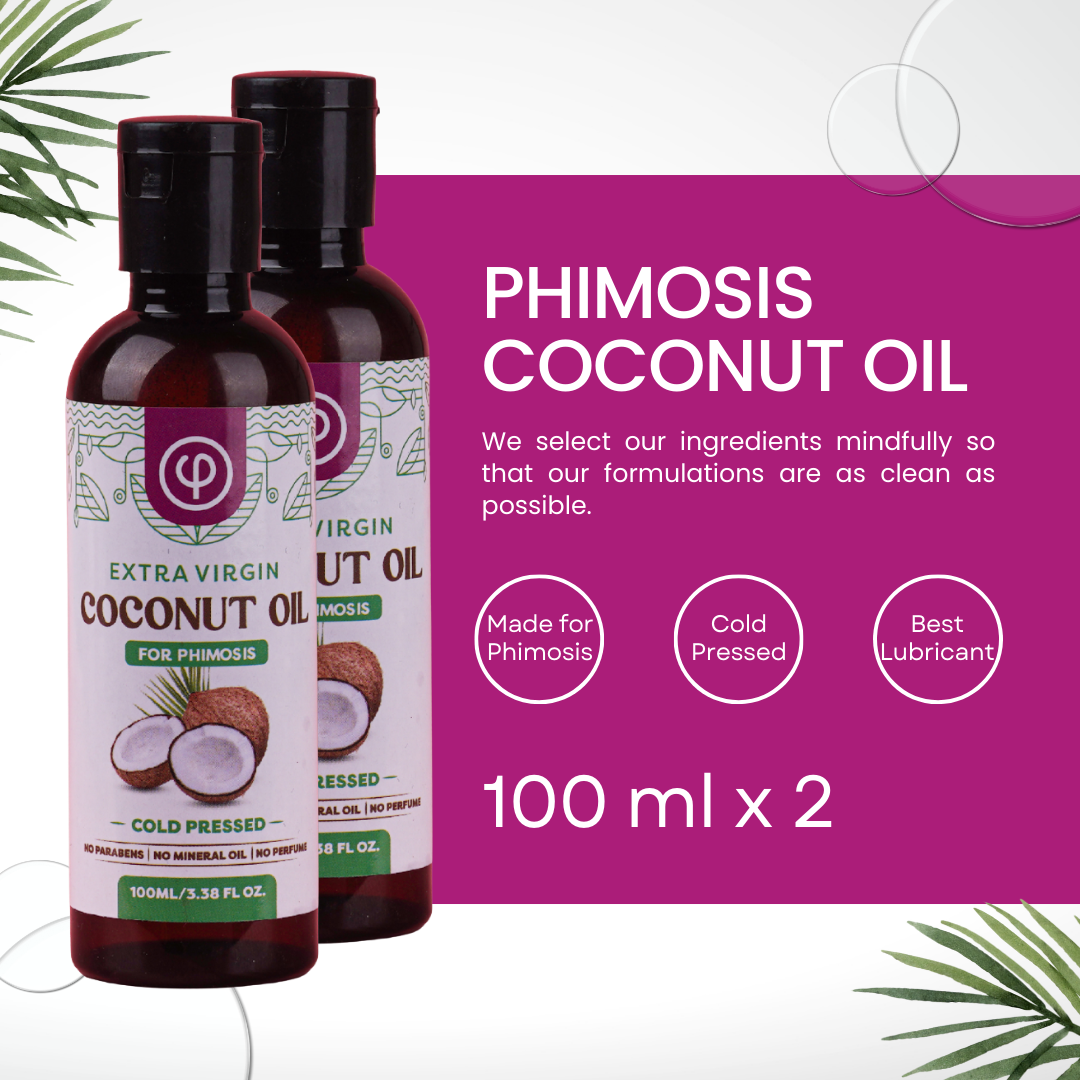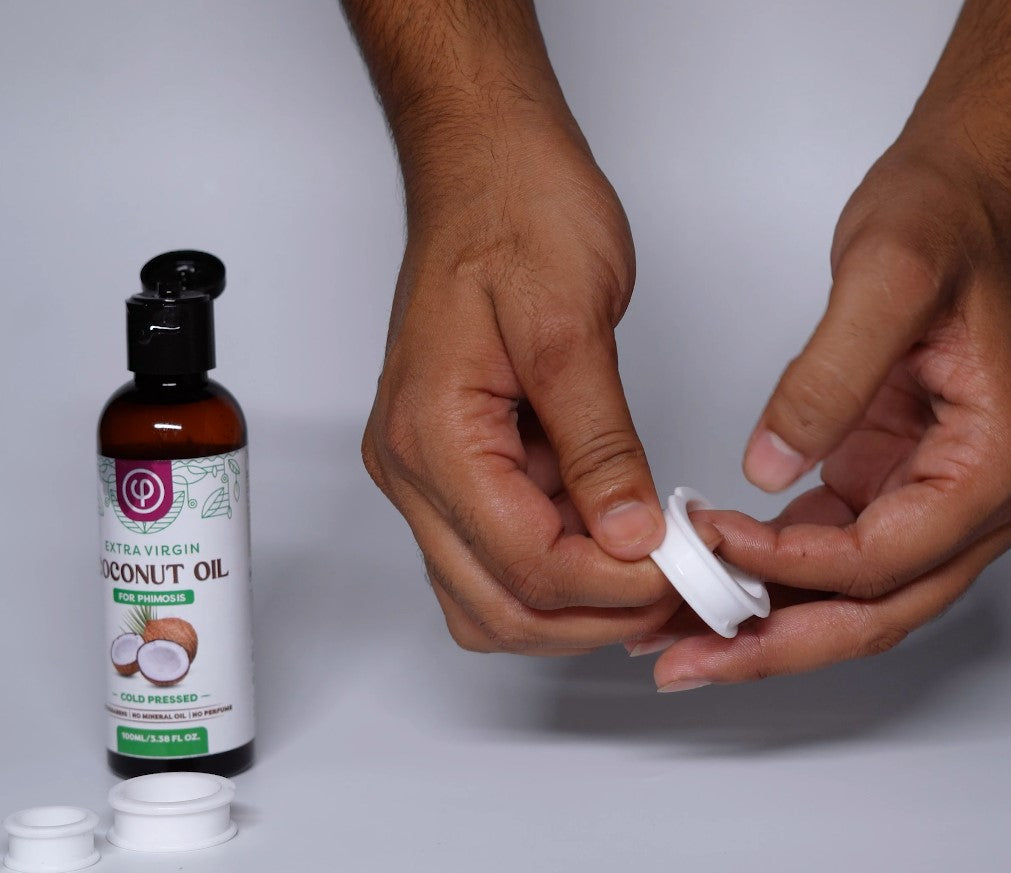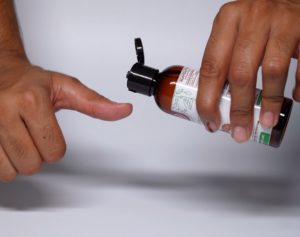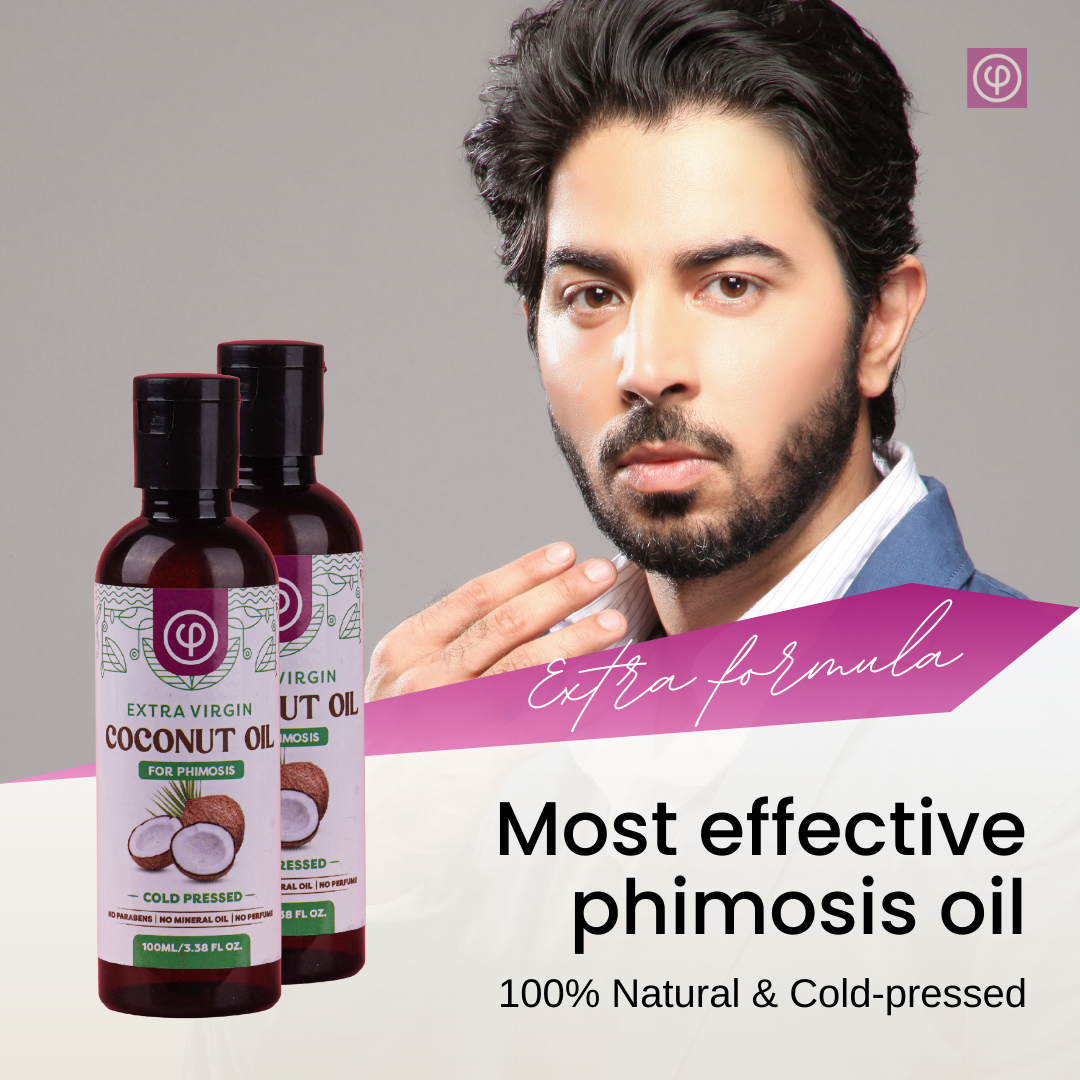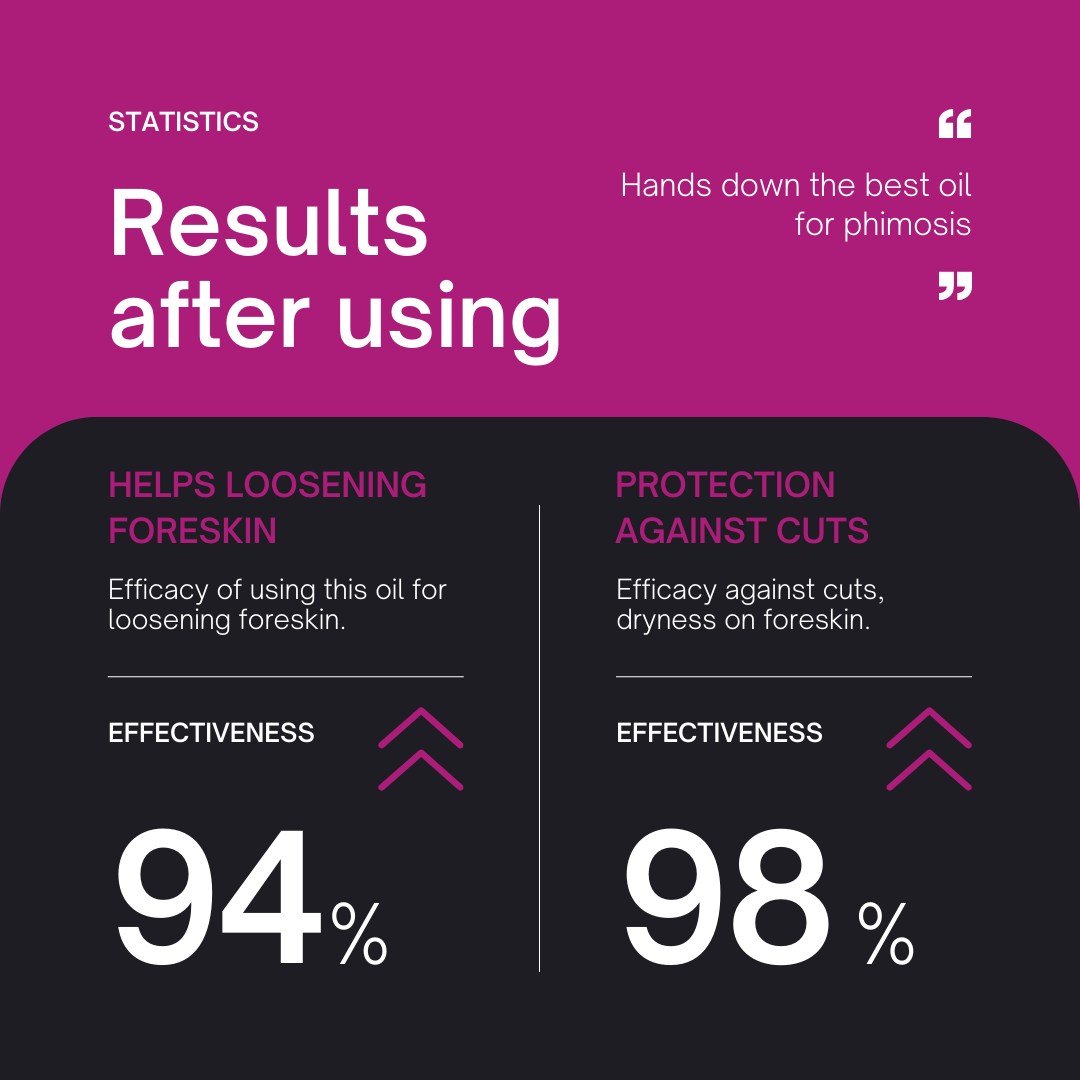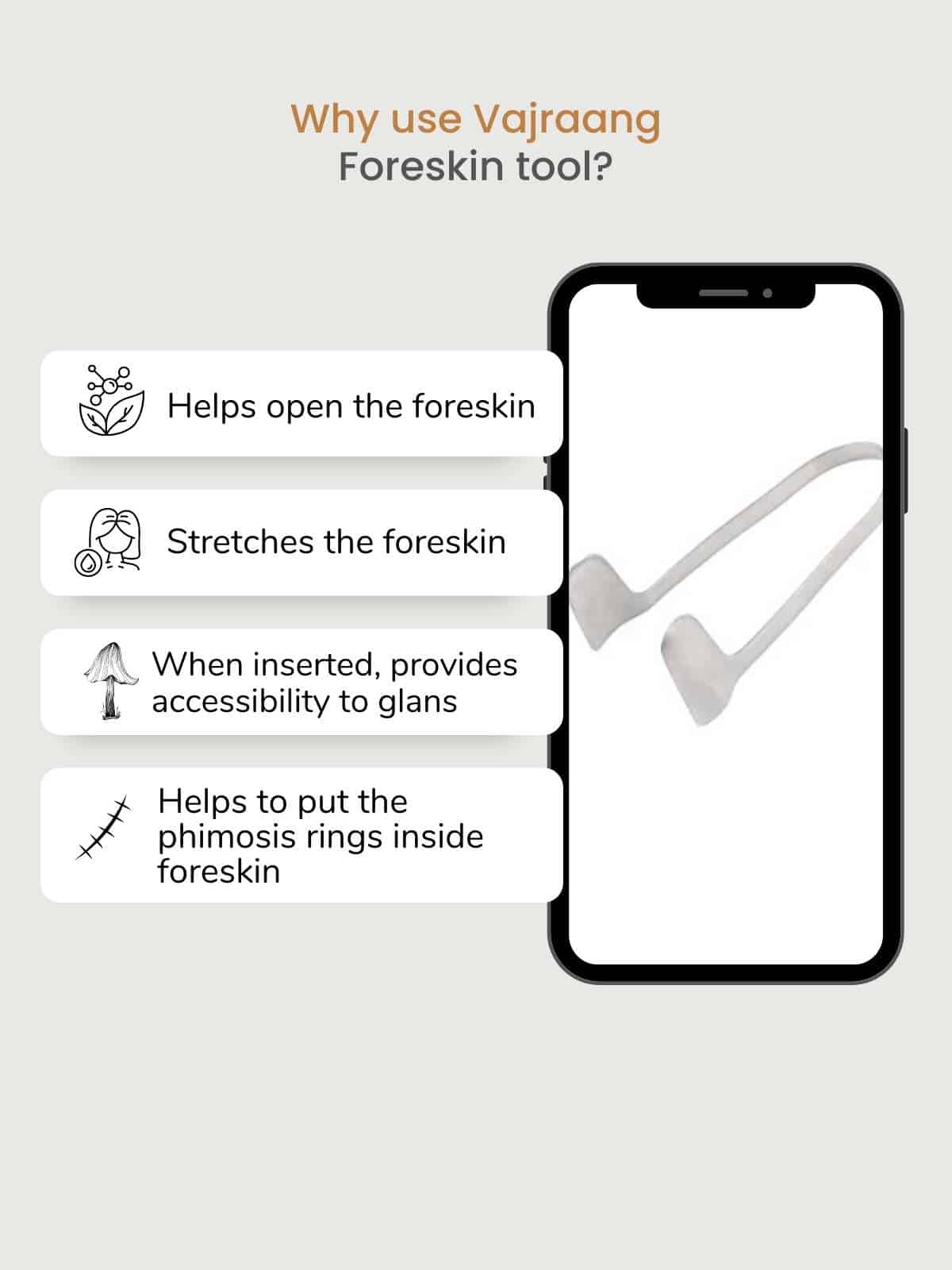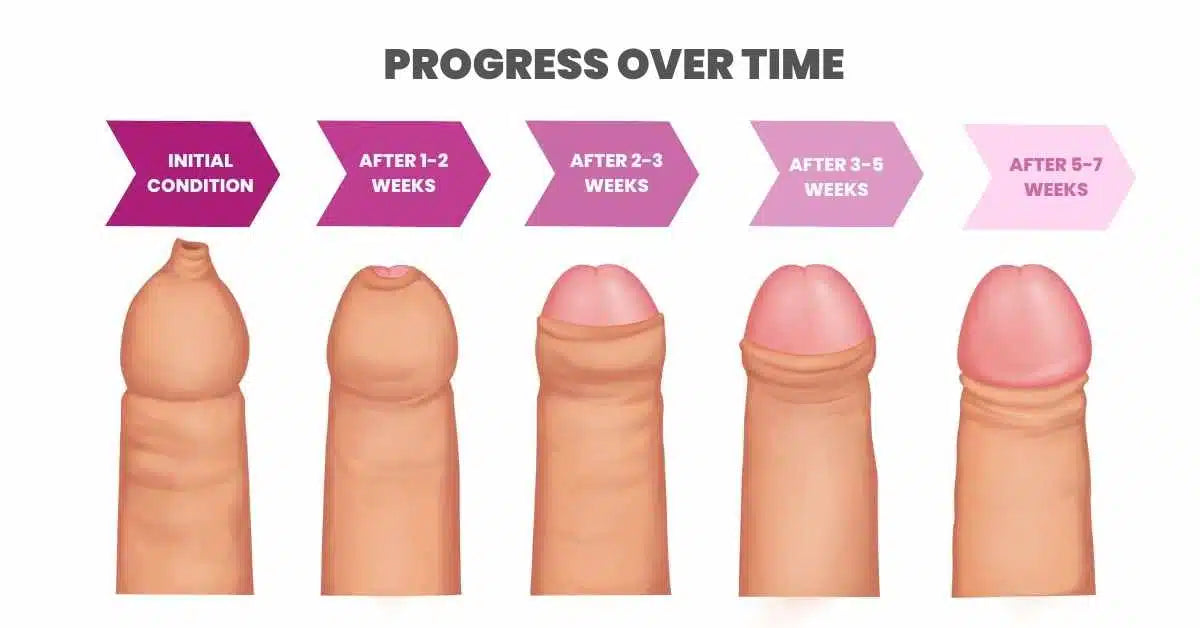 Progress over time
After using phimosis rings and phimosis cream combination, the results under routine circumstances are as depicted in the picture*. Results will vary from person to person.
Effects you'll feel
OVER 100,000 MEN AGREE WITH THIS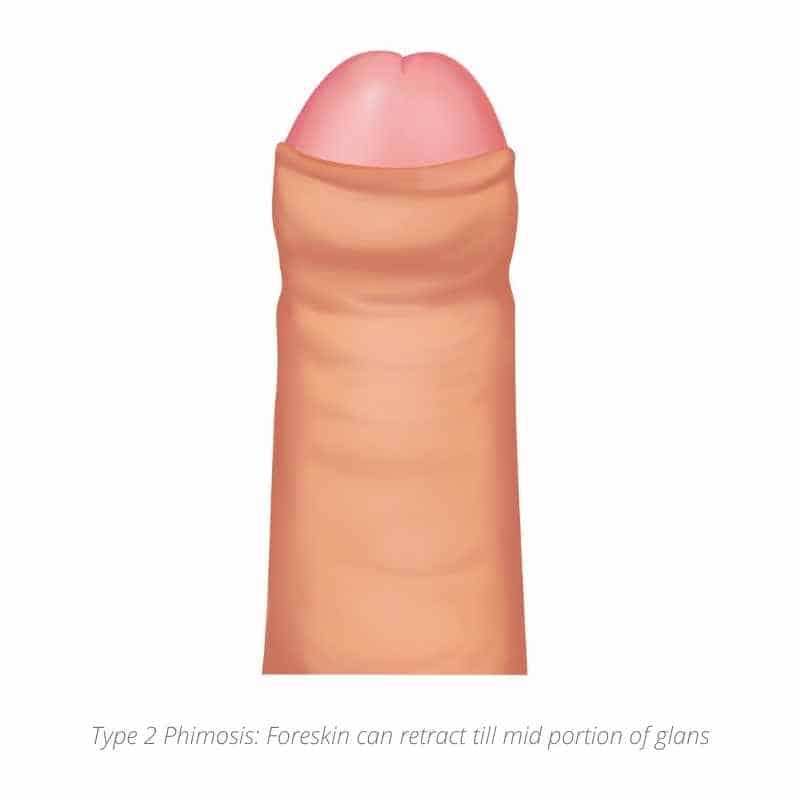 Foreskin begins to slide
Typically, it takes about four days to upgrade from the current ring size to the next. You will also notice that your foreskin may slide further back than before.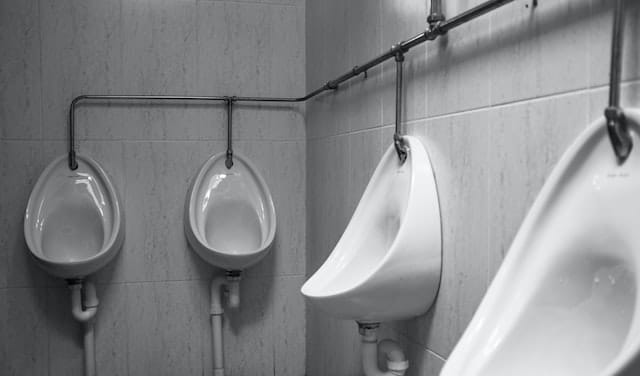 Improvements during urination
You will notice that as the foreskin opens more (slides lower over the glans), your urine stream is faster and extends further than usual.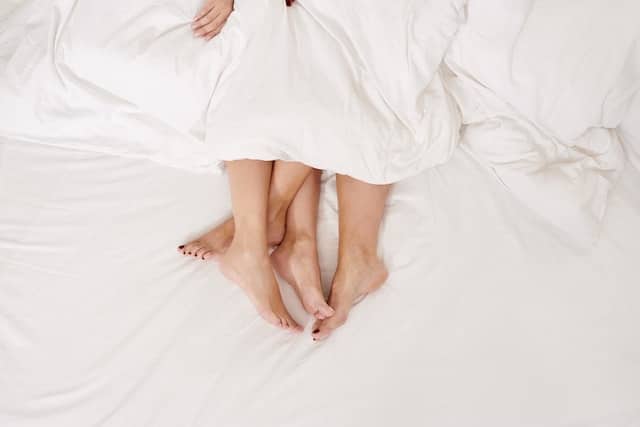 Intimate moments become more joyful
You will feel a drastic change and finally know what you have been missing until now.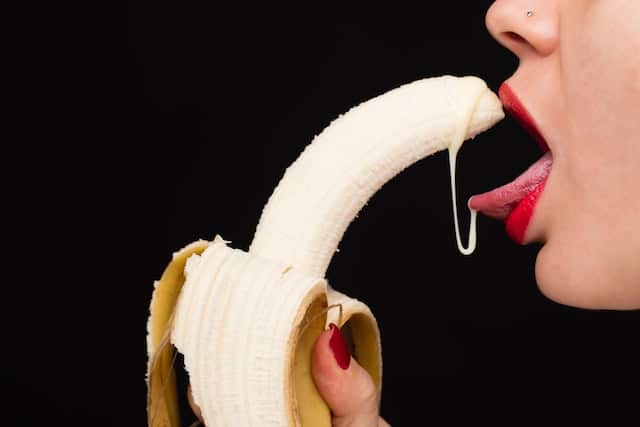 Easier cleaning
Cleaning inside the foreskin become very easy.
Complete package
The package comes with rings ranging from 3mm to 38mm, along with the treatphimosis stretch fore cream, phimosis oil and a handy little tweezer for pulling the foreskin. It's a good deal for the price!
Thank You Vishnu ji for the review. It takes a lot to write a detailed one, thanks again.
Took me about 3 months but here is how I did it.
At first, I didn't trust this product, but it really worked. The photo shows how much I improved in 3.5 months. I started with a very small ring and now I am at ring 30, 10 rings higher. It takes patience and dedication. I had severe phimosis and it caused a fungal infection. I only used the cream every night for 30 days and sometimes applied coconut oil. The fungal infection went away.
I can help you rewrite the paragraph. Here is one possible way:
I used the smallest rings at first because my condition was severe. I used it once a day during the day. In the beginning, I moved to a new ring every 2 or 3 days. But this slowed down when I got to 10 and above. It took me a week to switch to a new ring. Rings 26 and 28 took even longer. I tried to speed up the process by wearing the ring at night after applying the cream. I sometimes used oil in the morning. On weekends, I used the ring twice a day, morning and night. I slept with the rings on and they usually fell off in the morning.
I usually try a bigger ring in the daytime because I was scared it might hurt at some point. After a few days, I use the same ring at night. How do I know when to switch to a new ring? When the ring falls out quickly, I know it's too small and I go to the next size. How do I put on the ring? I used to fold the ring into a half-circle or make it even smaller, pull back the skin, place the ring and let go of the skin slowly. I was very patient when doing this, especially when moving to a new ring, so I didn't injure myself.
I'm now at ring 30, which seemed impossible or like a nightmare 3 months ago. I'm happy with how much I've improved. You just need to keep using the rings and be patient, and you'll definitely see results. Remember, the 3.5 months could be longer for some people, so don't give up and just focus on getting to the next ring. That should always be your goal. Every small step you take every few days/weeks/months will get you closer to the final result. Please note that once I got to ring 12 and above, I started feeling more comfortable with my condition. I'm currently at ring 30.
I'll give you another update in two months. Hopefully, I'll be at ring 34 by then. I'm taking it slow with the bigger rings because I don't want to feel any unnecessary pain and I'm not in a hurry. There's enough time to heal. I'll let you know how it goes in two months.
7th August Update: migrated to ring 32. Though initially it was tough to wear a big size after wearing the ring for three times the skin got elongated and now it is easy to wear in a minute it can be worn when compared to 3 to 5 minutes the first time I wore 32 size ring. I could visibly see the skin retracting every week. Expecting to wear 34 by another 10 days.
Thanks you so much Vipin ji for the detailed review. Happy to see you progress and getting free off phimosis. Thanks again so much!
What our customers say about us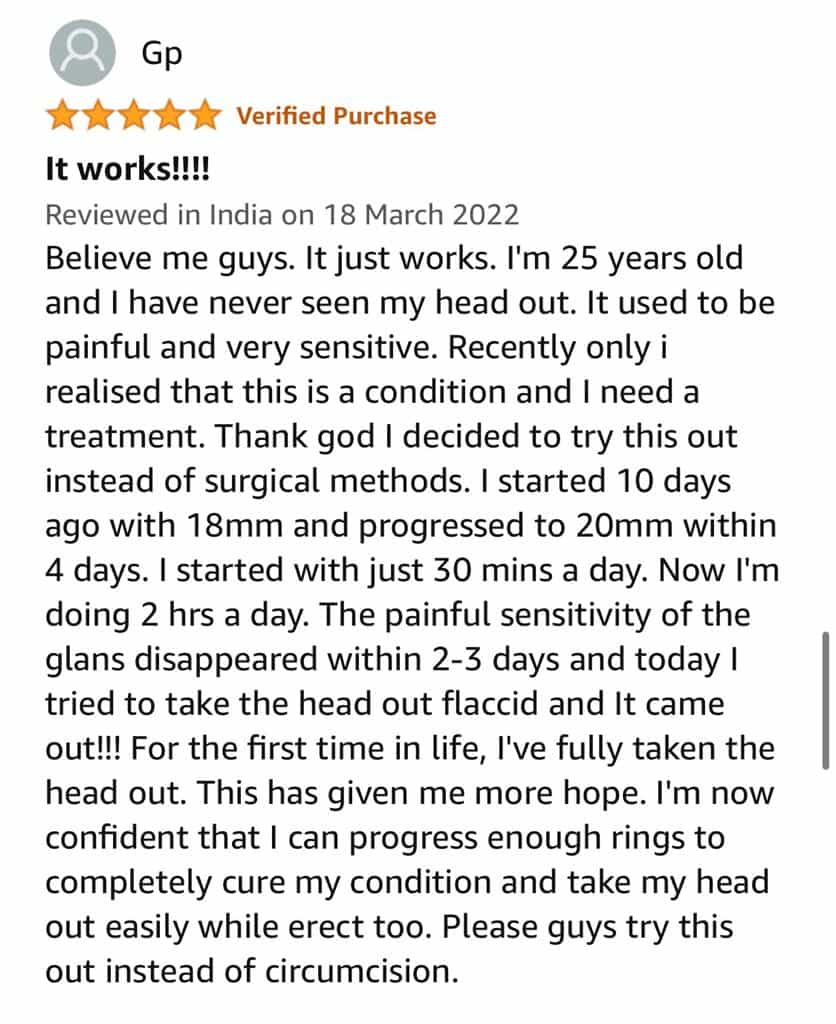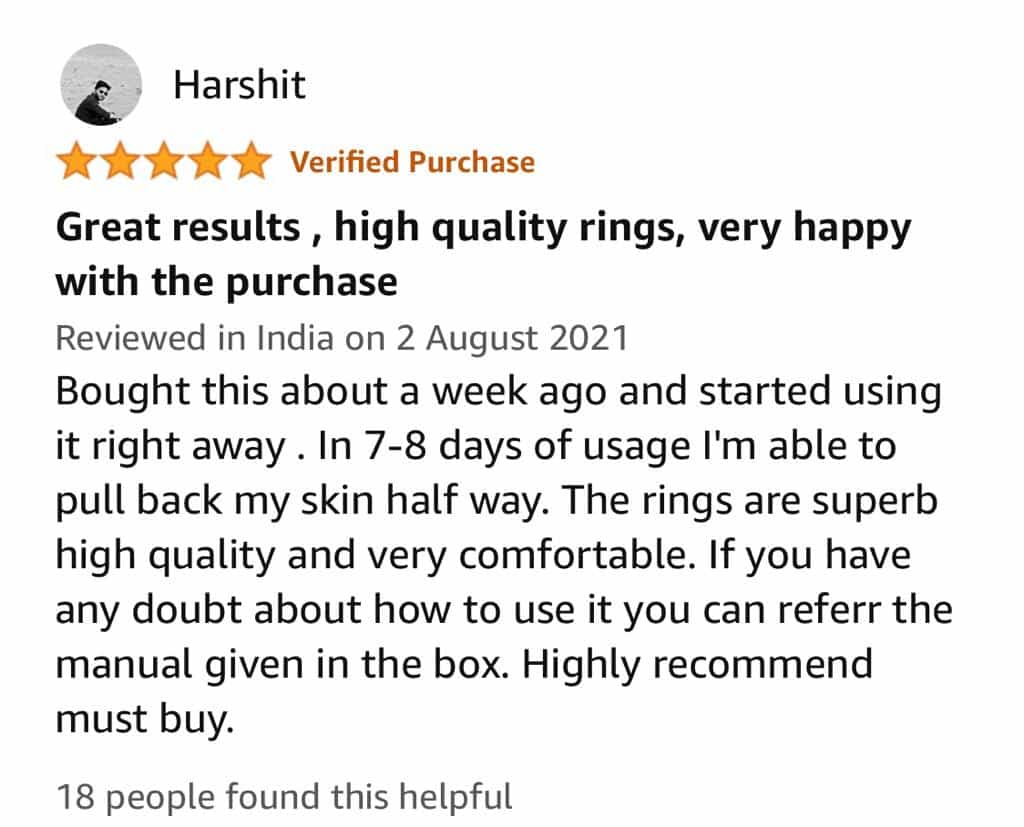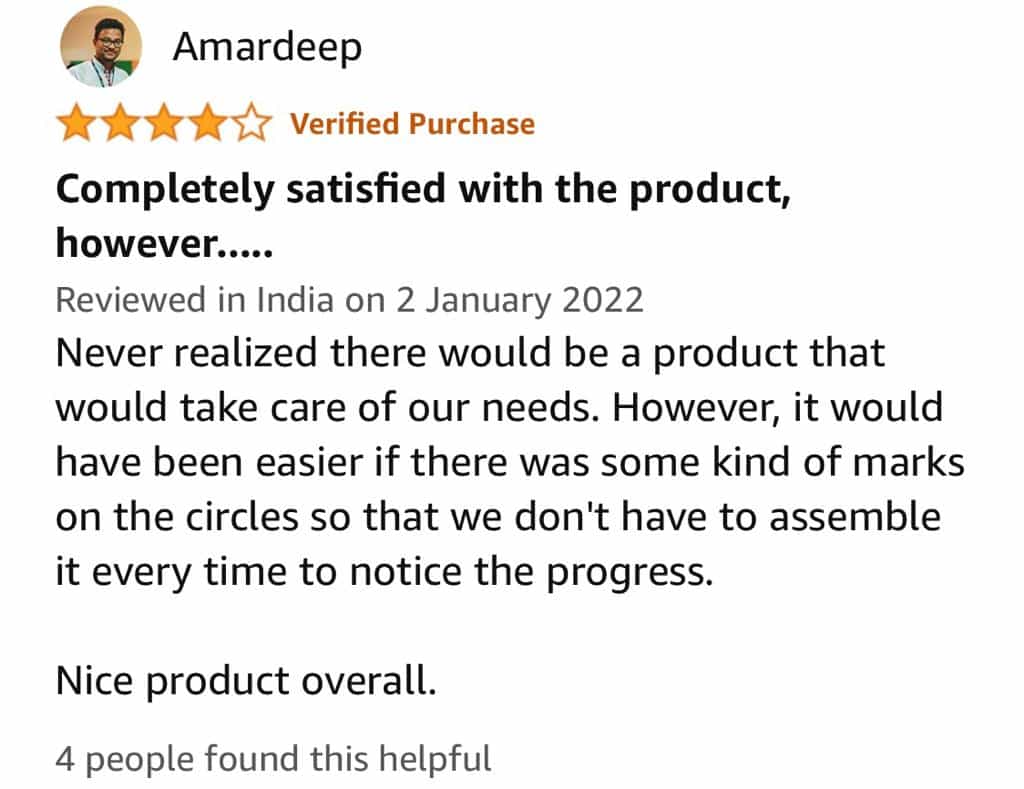 Answers to Common Questions
Can phimosis be completely cured using treat phimosis kit?

When it comes to treating phimosis, it's important to consider the facts. Did you know that 9 out of 10 people can successfully cure phimosis from the comfort of their own home? That's a success rate of 94% as of June 2023! While some urologists may recommend circumcision, there are actually many cons to this procedure. From a medical standpoint, surgery may seem like a quick solution, but there are better alternatives available. In fact, doctors may not be well-versed in these alternate options. So why go under the blade when you can explore safer and more effective methods?
How long will it take to see effect?

When using the rings regularly, you can expect to see an increase in your ring size within 3-4 days. Just remember not to exceed 60 minutes of wearing time to avoid any potential inflammation on the foreskin.
Will I feel pain when trying to use the treatphimosis kit?

The sensitivity of the glans varies from person to person. In general, if you have sensitive glans, you may feel some discomfort when touching it. To alleviate this, try applying a small amount of castor oil to the glans and gradually increase the contact with a lubricated finger. Over time, this can help reduce sensitivity and allow for comfortable use of rings.
I have pinhole phimosis and I don't think phimosis rings and stretching help me. What do you reccommend?

Pinhole phimosis is a state when foreskin on an erect penis doesn't retract and takes the shape of a pinhole. Lot of our customers have had pinhole phimosis, and let me assure you, yes, even pinhole phimosis can be cured using treatphimosis kit.
How do I know which ring to start with?

Attempt to elongate your foreskin to its maximum extent and observe how easily it glides over the head of your penis. This will give you a rough indication of the appropriate ring size. Additionally, simply experiment with different sizes to determine which one fits best. Just ensure that the ring is not too loose, as it may slip off.
When should I move up to the next ring size?

When you begin to observe that your current ring size consistently slips off, even over the edges, that indicates it is time for you to transition to the next ring size.
Can I wear the ring all throughout the day?

No, please avoid wearing it continuously throughout the day or for extended periods exceeding 1 hour. Prolonged usage may potentially result in inflammation of the foreskin, which would present an additional challenge.
My phimosis has gone, but do I need to wear the rings intermittently to prevent it from returning?

If the prepuce is regularly retracted during washing, sexual activity, or other activities, this is the natural stretching action that typically prevents the recurrence of phimosis.
How do I keep the rings clean?

The rings are made from a similar latex-free material as the teats of baby bottles, so we recommend using baby bottle sterilizing tablets/liquid. These can be easily purchased at most supermarkets and are very affordable. Avoid using harsh chemicals or an autoclave, as they can potentially damage the rings.
What to do when I feel uncomfortable to wear?

If you experience any discomfort or loss of sensation, it may indicate that the ring size is too big. Give yourself a day or two to rest, then gradually reduce the size of the ring until you achieve a comfortable fit.
I have scars on my foreskin, will this work for me?

When scar tissue forms, it becomes less elastic compared to healthy unaffected skin. To address this issue, it is crucial to modify activities that may aggravate the scars, such as sexual intercourse and masturbation (in which case, lubrication can be helpful). In the early stages of scar formation, the elasticity is significantly reduced. However, during the remodeling phase, the dermal collagen and elastic fibers are replaced and realigned, resulting in improved elasticity and the ability to stretch. Keep in mind that it may take several months for the remodeling phase to be completed, so modifying behaviors is essential if you want to effectively resolve phimosis through stretching techniques.
Can I wear the stretching rings during sexual intercourse?

Under no circumstances should you ever do this. Take off the stretching ring and thoroughly wash off the skin cream before participating in any sexual activity.
Do I need a medical prescription to purchase it?

No prescription is required in certain regions to buy it.
Does treatphimosis kit work for all types/stages of phimosis?

Absolutely, a resounding affirmative. It effectively addresses phimosis at any stage, including the pinhole variety.
From what age is it possible to use Treatphimosis rings and the kit?

For individuals experiencing phimosis and who are 13 years or older, we highly recommend using TreatPhimosis rings. It's worth noting that the prevalence of phimosis significantly decreases after the age of 13, with only 2-4% of men still affected by this condition at that point, as most cases naturally resolve themselves during earlier stages of development.
My glans are hypersensitive. I don't think I can put phimosis rings in it.

In case you have type 4 or type 3 phimosis, it is typical to experience hypersensitivity in the glans. This is primarily because the skin of the penis glans does not come into contact with any external surface, thus preventing keratinization of the glans skin and resulting in heightened sensitivity. Applying a layer of castor oil over the glans and gently touching it with a lubricated finger can help reduce sensitivity. By consistently practicing this method for a few weeks, you will notice a decrease in sensitivity, enabling you to comfortably use rings afterwards.
How many rings are available in the kit?

The kit includes 20 rings made of high-quality medical-grade silicone. These rings are available in sizes ranging from 3mm to 38mm.